Live, online karate classes in the comfort of your home.
One MOnth Virtual introductory Special (Save 50%)
One Virtual Private Karate Lesson
One Month of Virtual Group Karate Classes

All for only $49
---
KIDS CLASSES
Online classes specific to age and ability level
Available on any device via ZOOM App
Real-time 1 -on- 1 interactions with Professional Instructors
Virtual Graduations and Belt Ceremonies
Character development through self-control, respect, and self-discipline
ADULT CLASSES
Online Fitness and Self-Defense lessons
Available on any device via ZOOM App
All the benefits of a group workout without leaving home
Real-time 1 -on- 1 interactions with Professional Instructors
What Our Students are Saying
---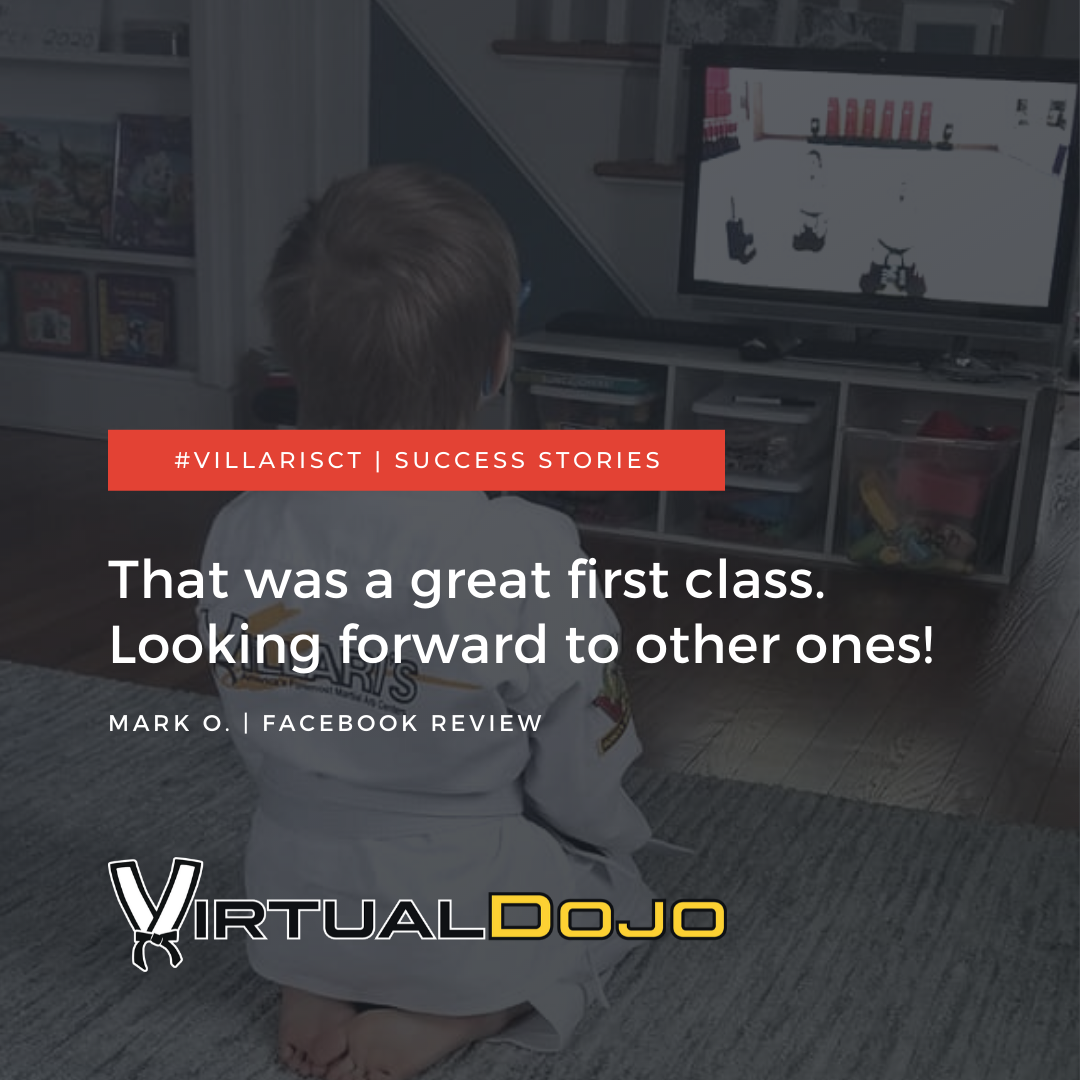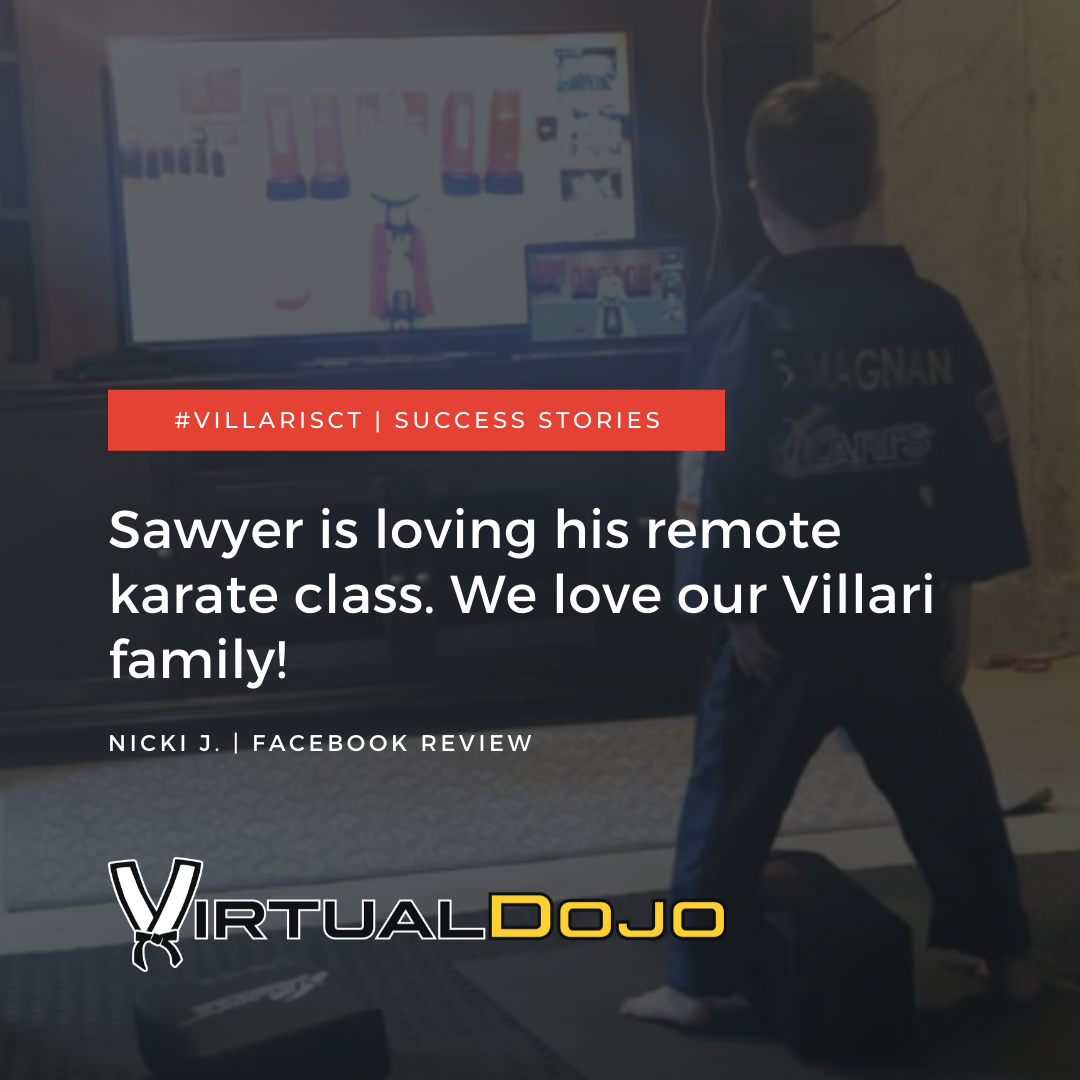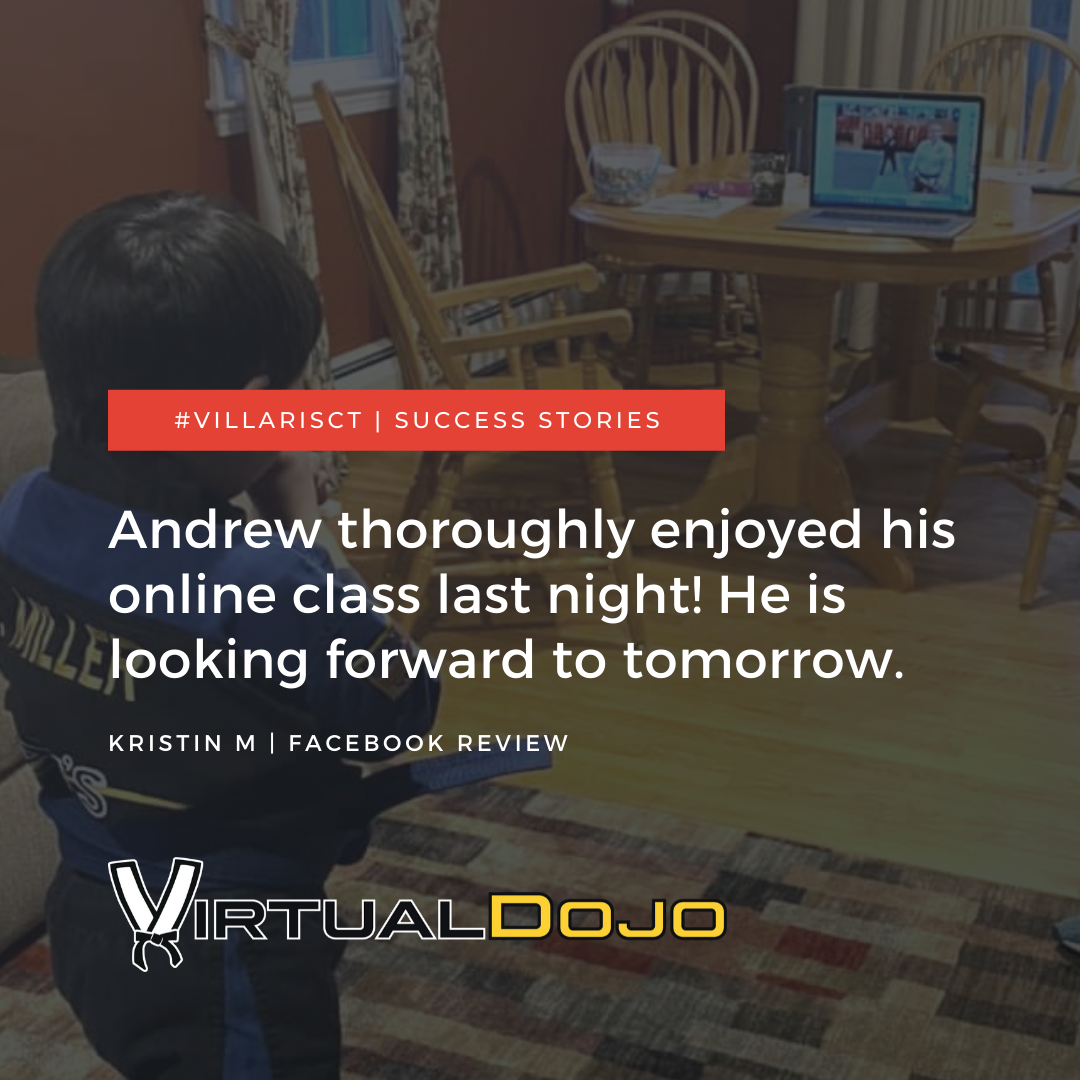 ---
One Month Virtual Introductory Martial Arts Lesson
---
Health & Fitness
"Class was awesome! I got just as sweaty and tired as if I had been in the dojo."
Tom F. | Facebook Review
PROFESSIONAL INSTRUCTORS CERTIFIED TO KEEP YOU MOTIVATED
Villari's instructors continue to teach martial arts in Connecticut, designing each class to be a motivating and effective workout, all while having fun and sharpening your martial arts skills. Live classes allow our instructors to directly encourage and assist you through your workouts and martial arts curriculum.
Workout virtually with your classmates who can inspire and push you to be your best. Our classes will get you moving and will provide a positive outlet for excess energy and stress.

Character development
"We were originally looking for something to help build his confidence, and we have found that and so much more."
Abby S. | Google Review
ACQUIRE LIFELONG SKILLS
Harness the core life skills we teach through the daily practice of self-control, self-discipline, and respect – whether you are at home, at work or school, or logged into your VirtualDojo class.
These core character traits are reinforced throughout your martial arts training at home.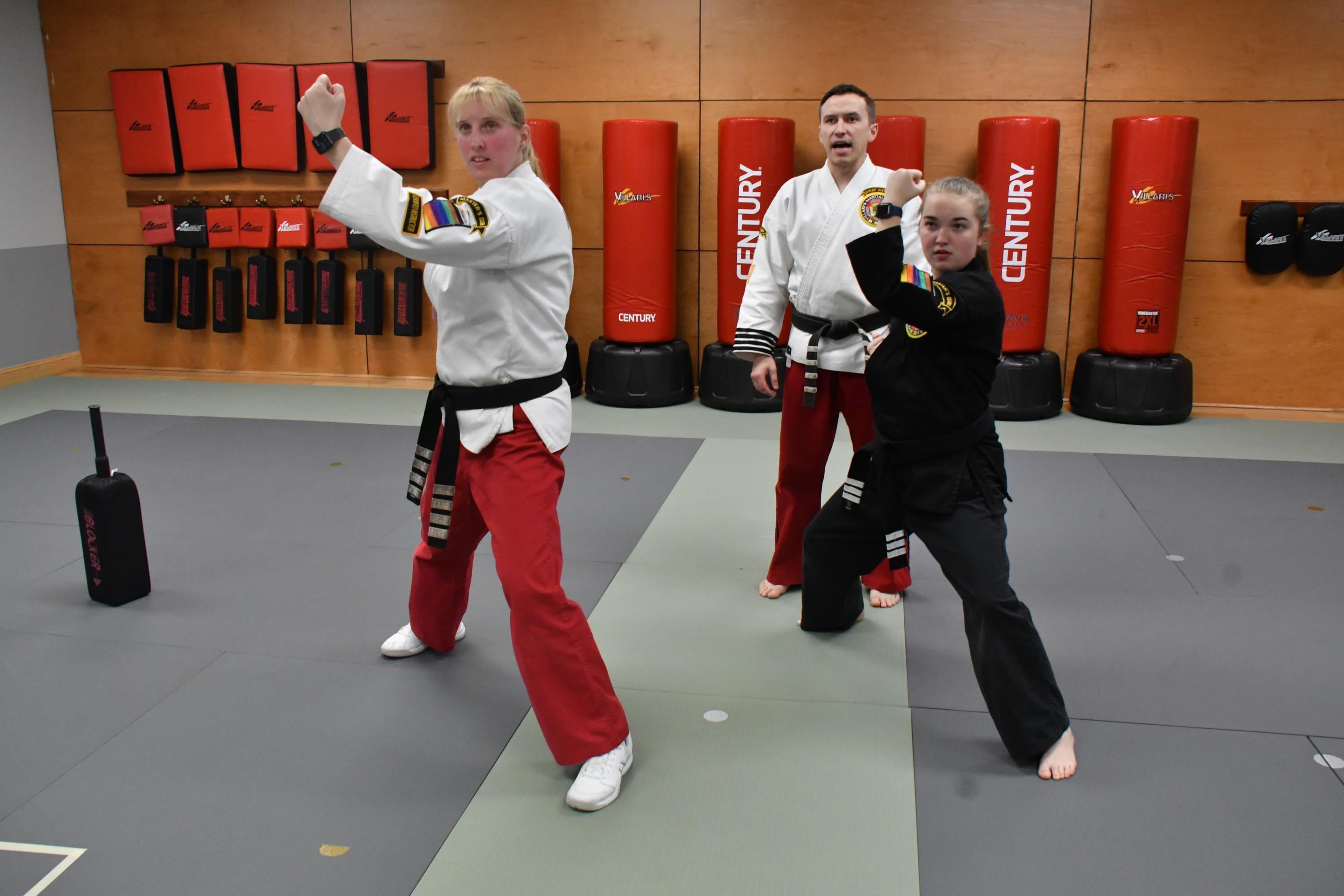 SELF-DEFENSE
"My 9-year-old daughter has been taking karate at Villari's for just over 2 years now and loves it. Besides getting a physical workout, she is learning how to defend herself. Because of everything I watched her learn along with the exercise, I started taking karate just over a year ago. I am 40 years old and I am so happy that I made that decision."
Lisa D. | Google Review
LEARN TO PROTECT YOURSELF & OTHERS
Develop a keen awareness of strangers, learn how to handle bullies, resist peer pressure, and know when to speak up and speak out. Through our classes, adults and kids will develop skills to defend yourself, build confidence, and feel prepared to handle any situation.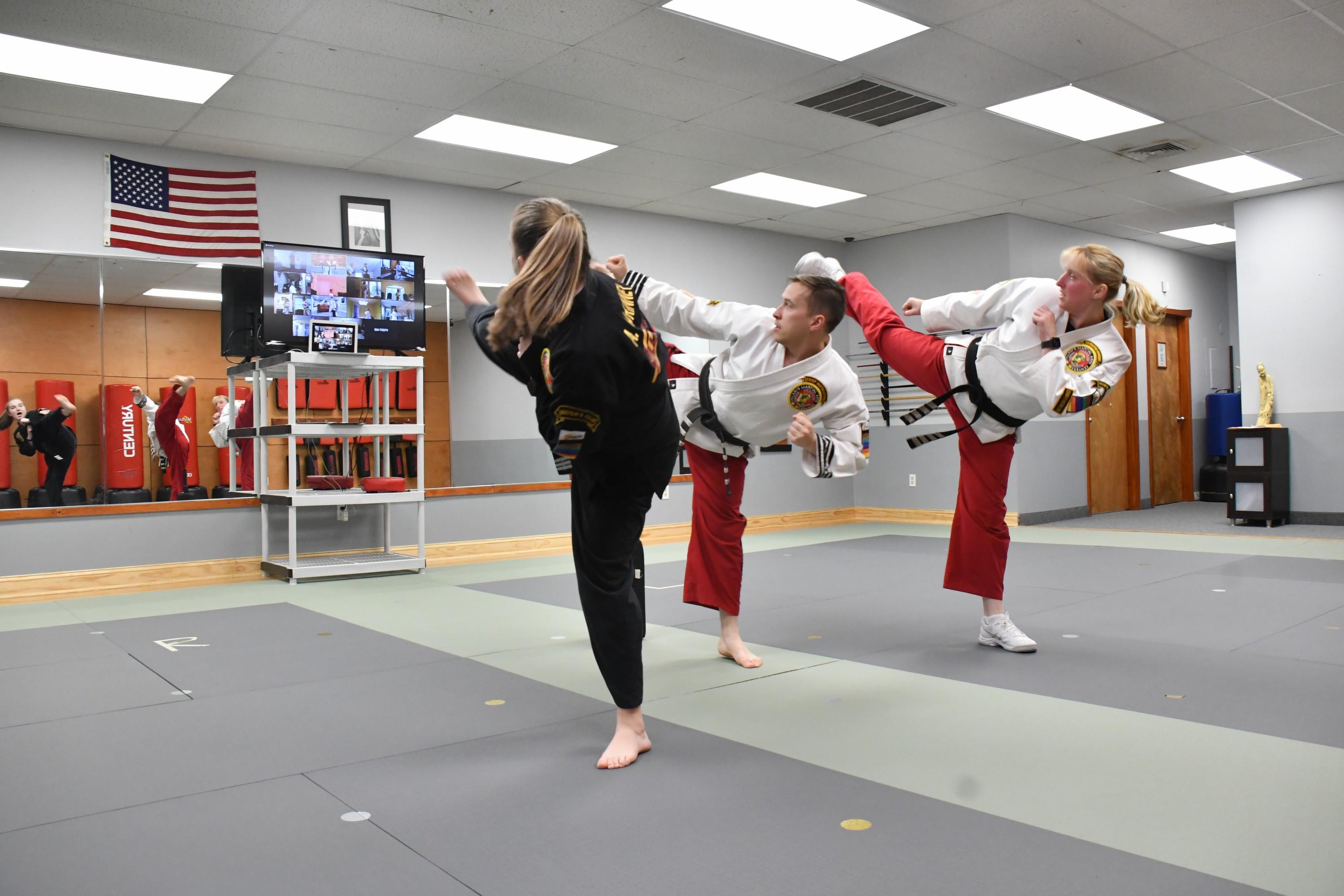 FUN
"My 8-year-old son has been at Villari's for 8 months. He has developed so much confidence and self-control in that time. Our family is so happy to have found such an amazing place."
Jason S. | google Review
TAP INTO THE ENERGY OF A GROUP CLASS WITHOUT LEAVING YOUR HOME!
Our virtual karate classes employ proven ways of incorporating structure, discipline – and a healthy workout – into a super fun, positive experience. Interact with both your instructors and your classmates as you workout and learn together!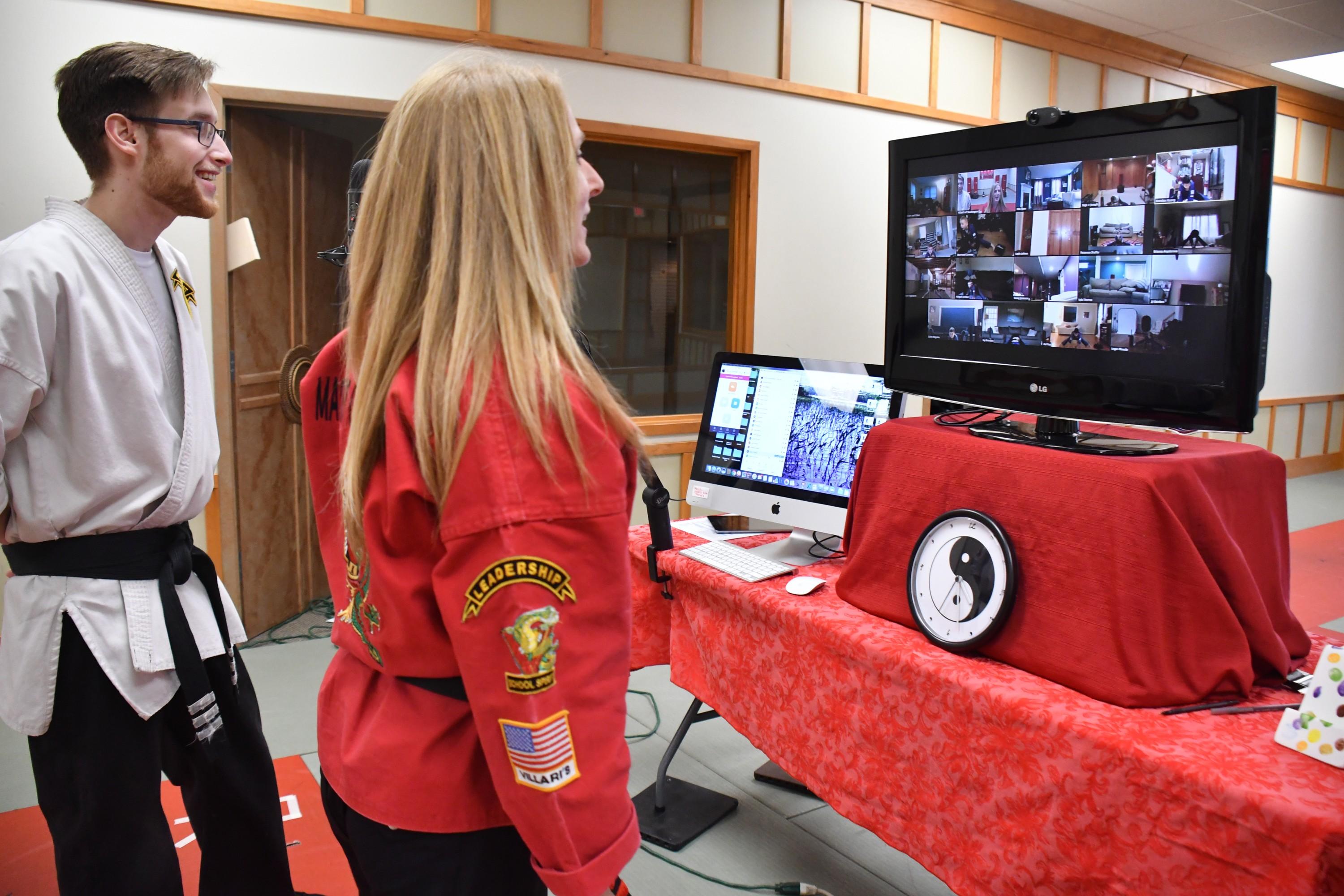 focus
"I have a rigorous schedule with not much free time. I wanted to learn self-defense that includes a fitness plan. With Villari's, I've learned so much more."
Joanne J. | Google Review
BECOME MORE FOCUSED AND ATTENTIVE
Staying focused on a task can be challenging at any age – whether you are at home, at school or work, or attending your VirtualDojo karate class. Our classes teach our students to develop the attention span required to complete tasks and stay on target!
Focus is a key part of your progress in our program, whether it's during a training drill, interacting with an instructor, or just learning to tune out daily stresses.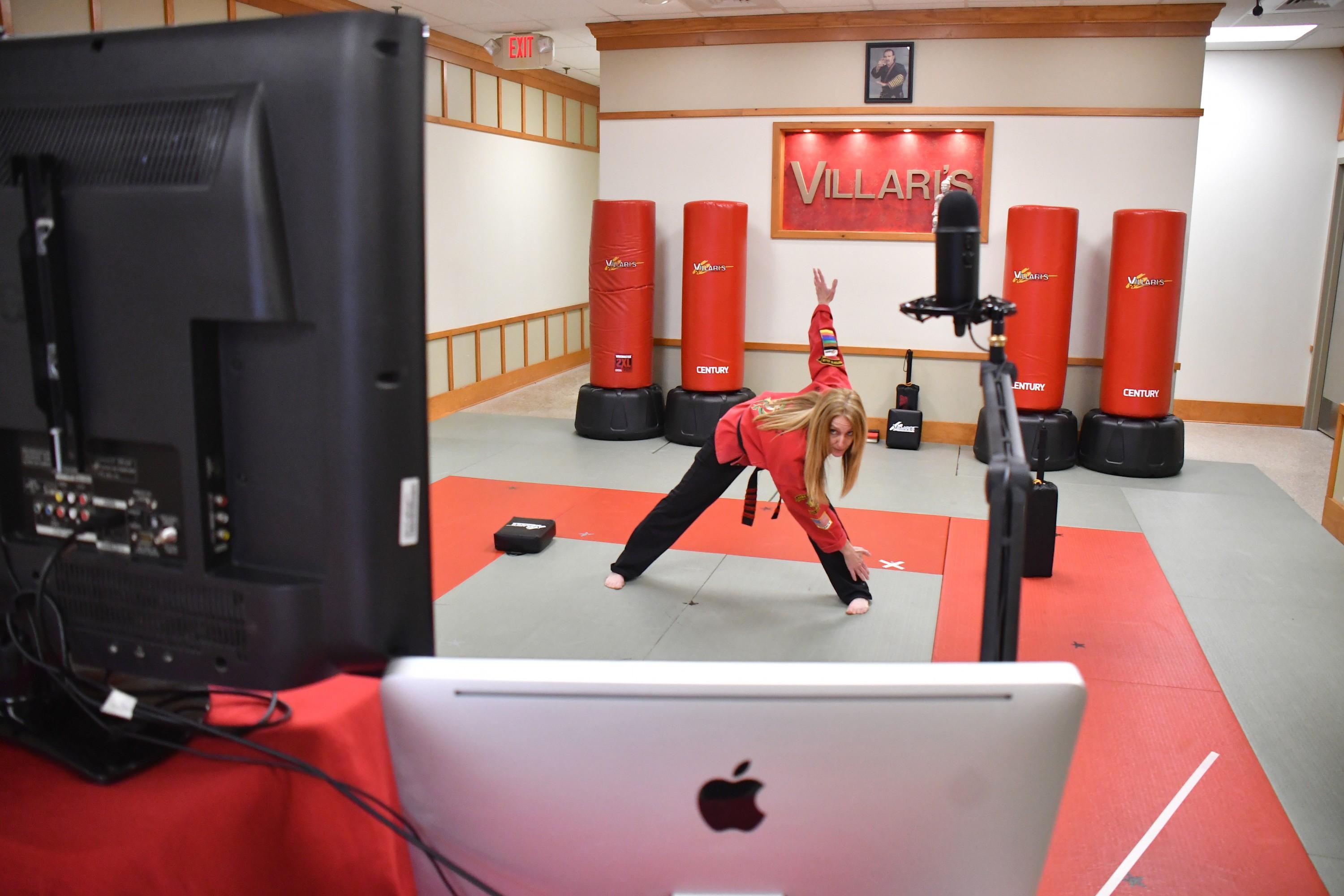 determination
"My children have gained many important life skills such as focus, self-control, self-confidence, and determination all while learning how to defend themselves and stay physically fit and healthy in a positive and fun atmosphere. I am so proud of them and very grateful for Villari's and all they have done!"
Amy F. | Google Review
SET GOALS AND ACHIEVE
Develop healthy self-esteem and determination to succeed in all that you set out to do. Our instructors encourage and guide adult students and parents in setting and achieving personal goals at home, at school or work, and when logging on for karate class.
Finishing what you start can be challenging – especially when life gets busy and stressful. Our classes promote progress and our instructors will motivate you to keep going until you or your child succeed.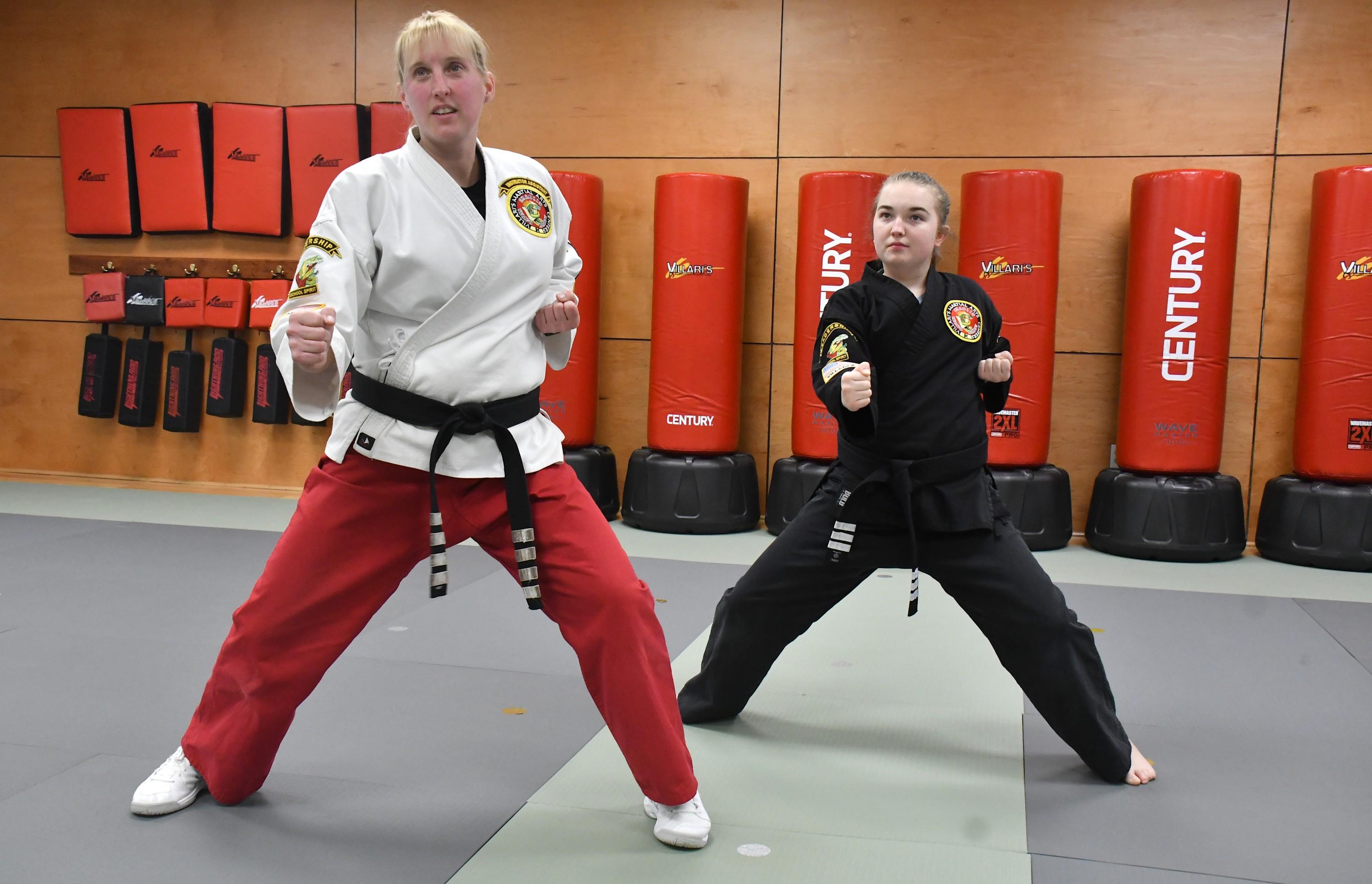 CONFIDENCE
"The classes have completely changed my son by allowing him to come out of his shell, become much more confident and channel his energy. On the other hand, my daughter, who has always been confident, is learning the importance of respect, self-control, and self-discipline."
Nicole B. | Google review
GAIN MORE CONFIDENCE
Get ready to stand a little taller and feel better about yourself! We help kids of all ages appreciate their abilities and accept who they are as individuals. For our adults, confidence comes through consistency and effort – lose weight, tone your muscles, learn to let go of negativity and take pride in something of your own: your ability to defend yourself and others if need be.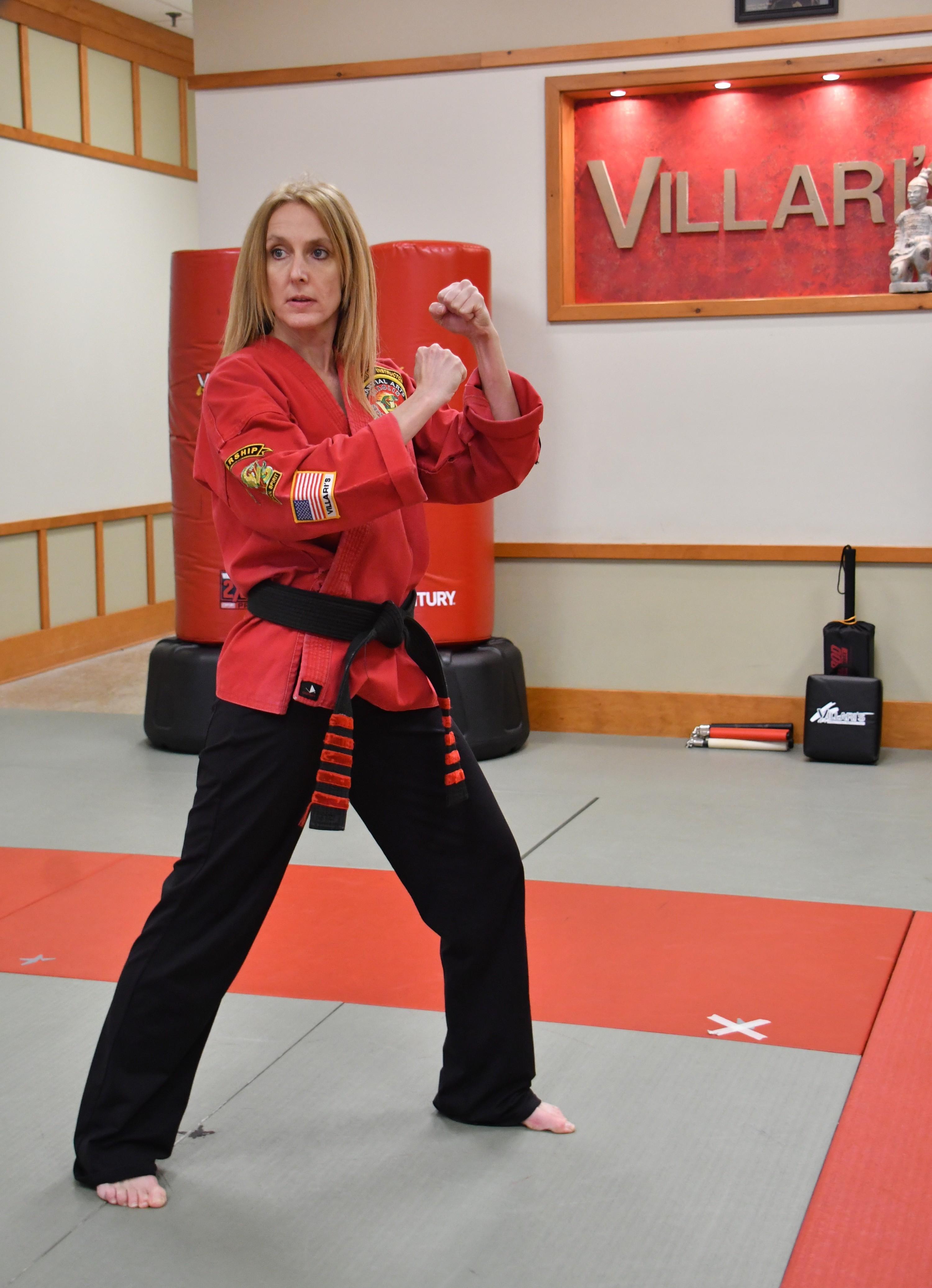 LEADERSHIP
"My daughter has been going for a year now and has accomplished so much in the time she has been there. Her confidence is up and she is much more independent!"
Tatiana O. | Google Review
DEVELOP LEADERSHIP SKILLS
Martial arts online classes encourage students to build courage, take charge and lead daily. Students are challenged to speak with a strong voice, lead peers by example, and more in our live, interactive classes!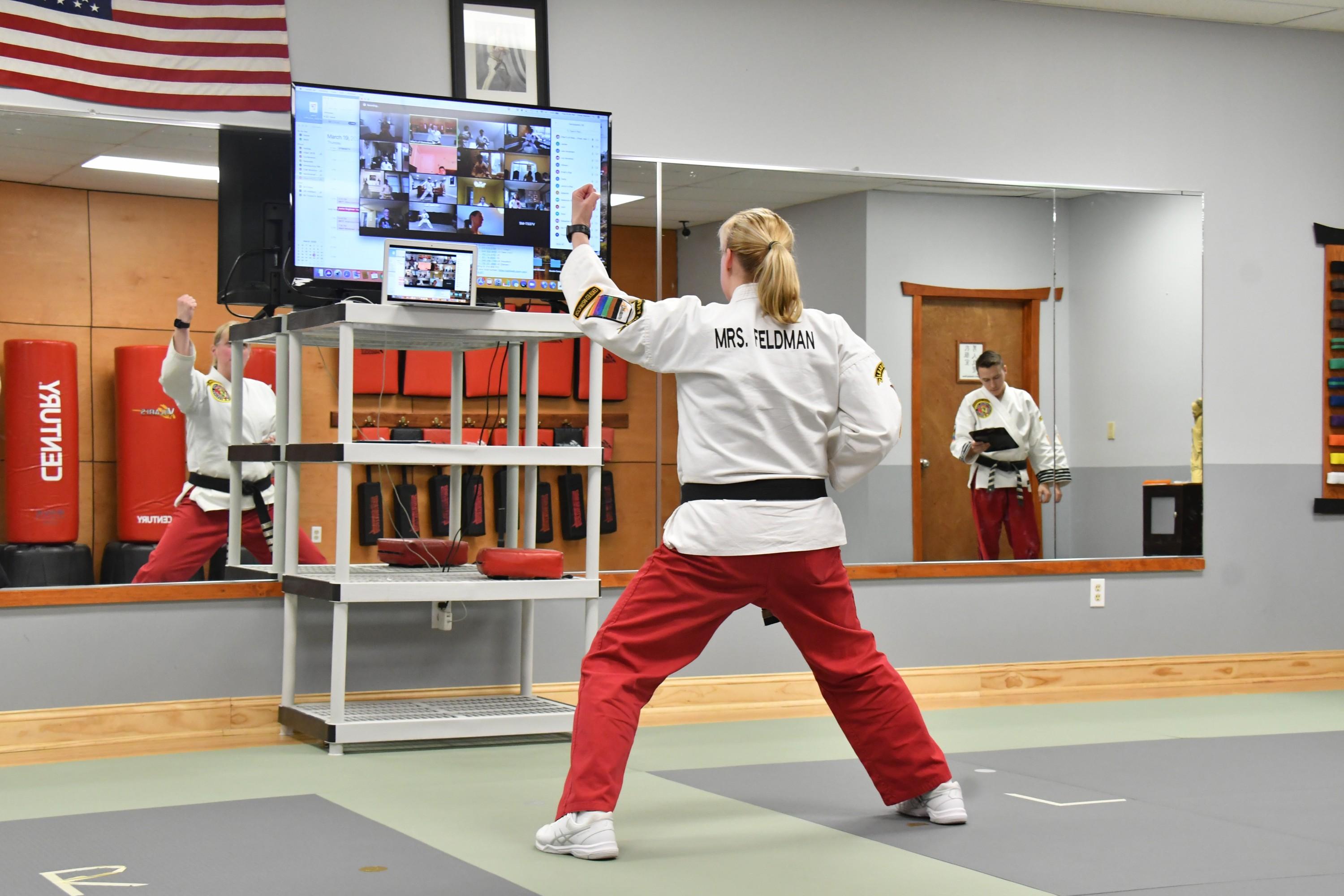 ---
One Month Virtual Introductory Special
---